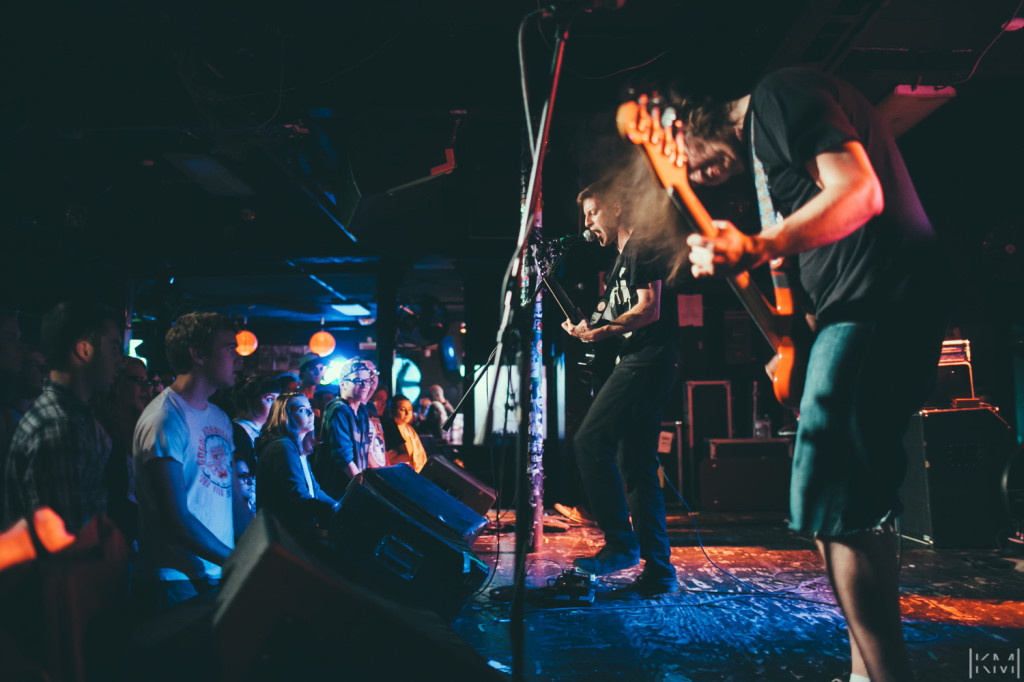 (For the full article featuring pictures from RCA photographer and founder Kelly Mason, head to Rain City Ambience!)
Early last week, Scranton quartet The Menzingers brought their headlining Rented World Tour to Seattle's El Corazon to push the new album of the same title. Supported by Philly band Cayetana, Buffalo trio Lemuria, and Toronto punk hotshots Pup on this national trip, Rented World is being sowed to the masses. New Orleans Topshelf Artist Donovan Wolfington was simultaneously headlining in the El Co lounge, so it was a thoroughly busy night for the venerable building.
Philadelphia trio Cayetana (@cayetanaphilly) started off the night, the three-year indie rockers headed by vocalist/guitarist Augusta Koch. Koch's wistful voice and thoughtful strummings served as the muscle to drummer Kelly Olsen's punk-tinged beats and bassist Allegra Anka's nimble fretwork. Songs like 'Hot Dad Calendar' had the crowd swishing and swaying from the bar to the pit. To get a better sense of the band, watch Shaking Through's delightful mini-documentary piece!
Next up was SideOneDummy breakout Pup (@puptheband), fresh from the spotlight at SXSW and armed with a self-titled making waves in the punk and rock scenes alike. Although the band has only been together a few years, this talented quartet performs with electrifying chemistry and relentless intensity. Frontman Stefan Babcock led guitarist Steve Sladkowski, bassist Nestor Chumak, and drummer Zack Mykula through scorchers like 'Guilt Trip', the bluesy 'Yukon' (complete with a spot-on solo), and first single 'Reservoir'. The crowd was mesmerized as the gang sang, yelped, and yowled in raging harmony, their live performance a masterful facsimile of the studio recordings. This group is absolutely one to watch.
Buffalo NY trio Lemuria (@Lemuriapop) followed, a highly engaging trio in singing drummer Alex Kerns, singing guitarist Sheena Ozzella, and bassist Max Gregor. Celebrating 10 years as a band this year, Lemuria turned heads with a style of catchy indie-bordering-punk that is as fun as the songs are brief. Currently pushing 2013's The Distance Is So Big, this energetic band had diehard fans singing right along with Kerns and Ozzella as they traded vocal duty. Favorites off of 2011's Pebble and 2008's Get Better were also prominently featured, enjoyable selections performed with plenty of heart and determination. Along with Pentimento, Lemuria is holding the music flag high for Buffalo!
As The Menzingers (@TheMenzingers) were getting set up, I was pleasantly surprised to see lead vocalists Tom May and Greg Barnett tuning and checking their own guitar rigs.Undoubtedly one of punk rock's brightest stars, The Menzingers charged the stage with 'I Don't Wanna Be An Asshole Anymore' and 'Good Things', and proceeded with a generous blend of hits from Rented World and On The Impossible Past.
The now-packed pit was stirred into a frenzy as May and Barnett barked and screamed through song after song, even reaching back to 2010's 'Who's Your Partner'. Bassist Eric Keen and drummer Joe Godino kept a laser focus on the low end as the band plowed through a gargantuan 16-song set list. A short but powerful encore set of 'Gates' and 'The Obituaries' closed out the night, the band and crowd reaching a new peak of ferocity during the last song's triumphantly self-deprecating chorus.
If you're looking for a reminder that North American punk is still a force to be reckoned with, look no further than this handful of bands. It's uncommon for such a nice fit of artists to tour together, but The Menzingers have done it for the Rented World Tour, and it's a punk rock work of art.