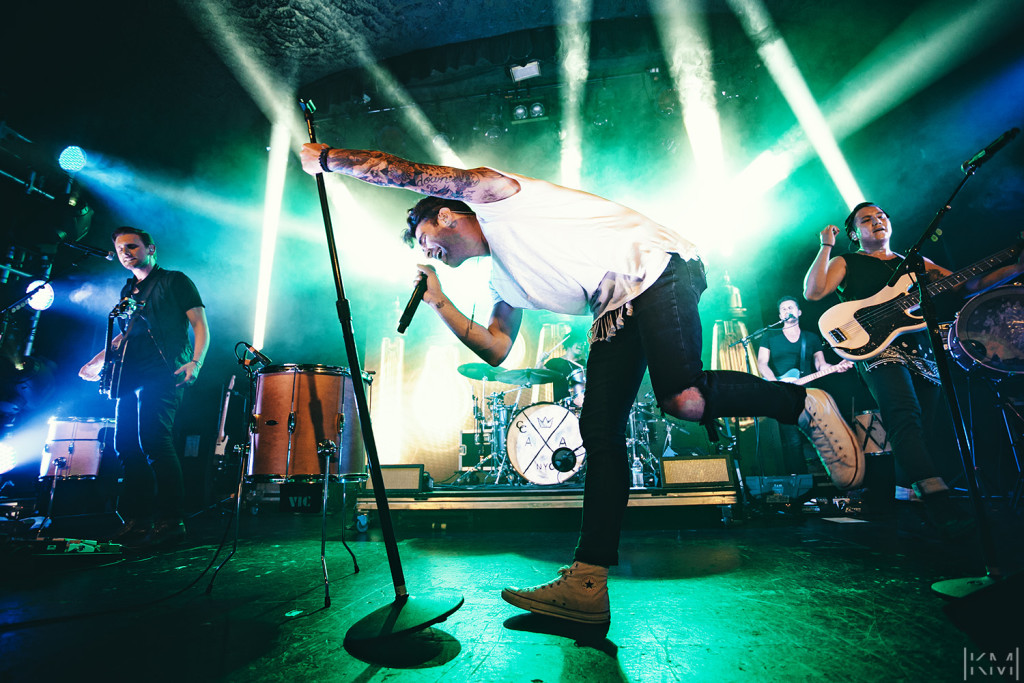 Image courtesy of Kelly Mason. For the full image set, please visit Rain City Ambience.
The Honda Civic Tour has been a bastion of rock and pop rock for years, and the 2014 lineup is no different. Headlined by Brooklyn's American Authors and supported by LA bands The Mowgli's and Echosmith, this year's tour has been bringing the best breakout artists to the American masses. With one album out each and a few EPs here and there, this tour represents some of music's most promising new acts.
Hosted at Showbox At The Market, The Honda Civic Tour had the venue gussied up with a full color screen as a stage backdrop, fancy print media, and additional mood lighting in the venerable Seattle venue. Reasonably packed with a maximum capacity of 1,100, Showbox was the place to be on a Thursday night.
First up was California family quartet Echosmith, led by sibling wonders Sydney and Jamie Sierota. Backed by Sierota brothers Noah and Graham on bass and drums respectively, this talented band is fresh off this year's Warped Tour and making big league moves with mainstream radio play and a run on one of rock's most prominent tours. With songs like 'Tell Her You Love Her' and title track 'Talking Dreams' featured prominently on the setlist, Echosmith had the audience enthralled through the night with onstage chemistry that can only be explained by talent and family bonds. The band closed with smash radio hit 'Cool Kids' and Summer jam 'Nothing Wrong', both key tracks on Talking Dreams, an album that turned a year and a day old at time of performance. Now signed to Warner Brothers Records, this young act can do no wrong, and is on a bright trajectory in modern music. Watch the music video for 'Cool Kids' below:
The Mowgli's followed, a second Los Angeles band whose seven members are the kind of musicians who look like they live every bit of the fun their songs promise. Light, peppy, and built on unbelievable gang harmonies, The Mowgli's' (what do I do with the apostrophes in this situation? Seriously.) sound is forged for hosting that last Summer barbecue on the beach. With seven singing members and a slew of instruments between them, the flavors and sounds are immensely rich and offer no shortage of danceable tunes. Stomping through delightful choices off last year's Waiting For The Dawn, the band is a party of dancing and clapping led by singing guitarist Colin Dieden and percussionist Katie Jayne Earl. Playing through songs like 'Emily', 'Love Is Easy', and 'San Francisco' (below), this fantastic seven-piece is poised to strike sun into your heart and Baloo dancing in your step with a new album in 2015.
Brooklyn headliners American Authors hit the stage at around 10PM, and put on a phenomenally energetic set for such a late night. As with the openers, this quartet only has major LP out, this year's Oh, What A Life on The Island Def Jam Music Group. Singer Zachary Barnett powered confidently through singles 'Trouble' and 'Luck', smash hit 'Believer', RIAA double platinum 'Best Day Of My Life', and choice covers of Sam Smith's 'Stay With Me' and Coldplay's 'Yellow'. Supported by drummer Matt Sanchez, bassist Dave Rublin, and guitar/banjo/mandolin slinger James Adam Shelley, the band is a harmony powerhouse with the flexibility, skill, and range often required in contemporary rock. Closing out the night with the hopeful 'Keep Me Dreaming' and victorious title track 'Oh, What A Life', this band of Berklee grads are patently making their own luck.