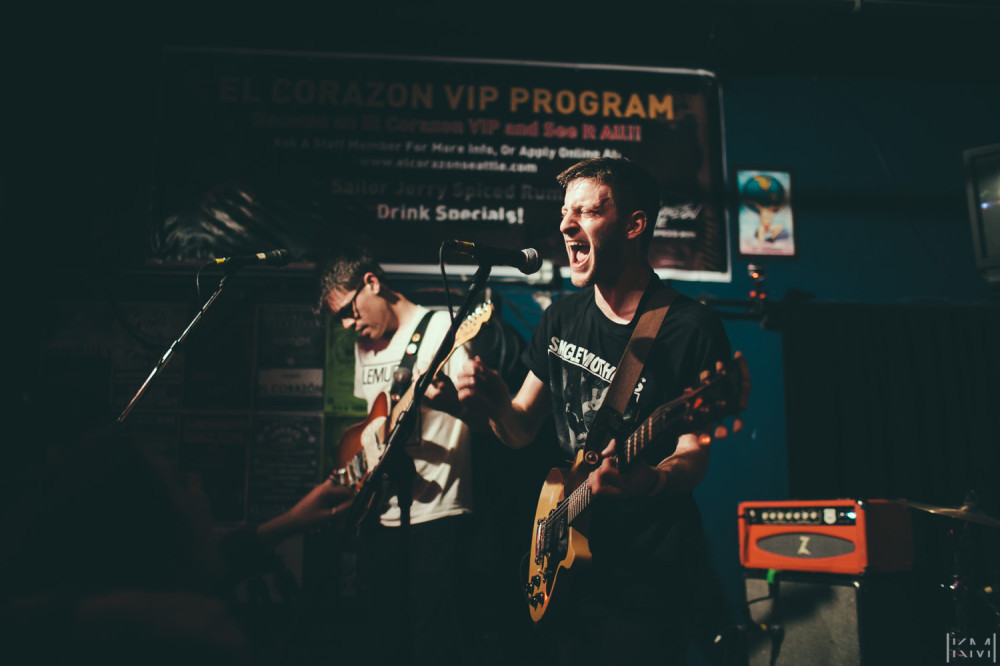 Photo courtesy of Kelly Mason. For the full image set, please visit Rain City Ambience.
Toronto's nastiest punk rockers Pup just kicked off Noisey's Everything Gets Worse tour, a massive North American run that will bring the phenomenal quartet down the West coast, through the South, and land them in the middle of The Fest in Florida in November.
Last time this young band was in town was with The Menzingers for the Rented World tour, an excellent lineup filled out by Cayetana and Lemuria. Pup was tour support, and busy pushing their newly released self-titled on SideOneDummy. Their tight live show and a rockin' demeanor clearly left a great impression in our little city, immediately noticeable in the crowd's buzzing excitement for this new headlining show. Kelly, Thomas, and I headed to the El Corazon lounge last Tuesday night to see this RCA favorite again, and the band did not disappoint.
The night kicked off with singer/songwriter Ryan Hyde and energetic local bands Random Orbits and Success. All three were a great ramp-up to Pup (heh), with Hyde's acoustic strummings leading to the tight, throwback pop punk sound of Random Orbits and the intense punk/pop punk dealt by Success.
Pup hit the intimate stage of the very full El Co lounge at 10:15, and the crowd was ready to rock. Pup's hard work in the studio and on the road has paid off, as the crowd sang and shouted along, joking heartily with Pup's members as devoted fans do.
The four fellas in the band put on even more intense a show than last time, with vocalist/guitarist Stefan Babcock leading the charge. Flexing his incredible range in tone and timbre, Babcock's furious singing was backed by gang vocals from bassist Nestor Chumak, guitarist Steve Sladkowski, and drummer Zack Mykula. Always perfectly coordinated in their mic attack, the band is aggressive, polished, and amazingly punk.
It's not just that the band writes good songs. They play them really, really well. Opening with self-titled first track 'Guilt Trip', these four Canadians prove that being all-business on stage can be as fun as it is rewarding. Following up with album favorites like 'Back Against The Wall', 'Dark Days', and newly minted music video track 'Mabu', the band's intensity was only paused between tracks for a few sarcastic comments and riffing. The night closed out with first single 'Reservoir', the epic 'Yukon', and a passionate/awesome/rowdy cover of the Beastie Boys' classic 'Sabotage'.
If at all possible, make sure you see this band every time you can. They're gonna tear up The Fest in a few weeks, and it's all systems go for these Canadian dudes. Paws up!