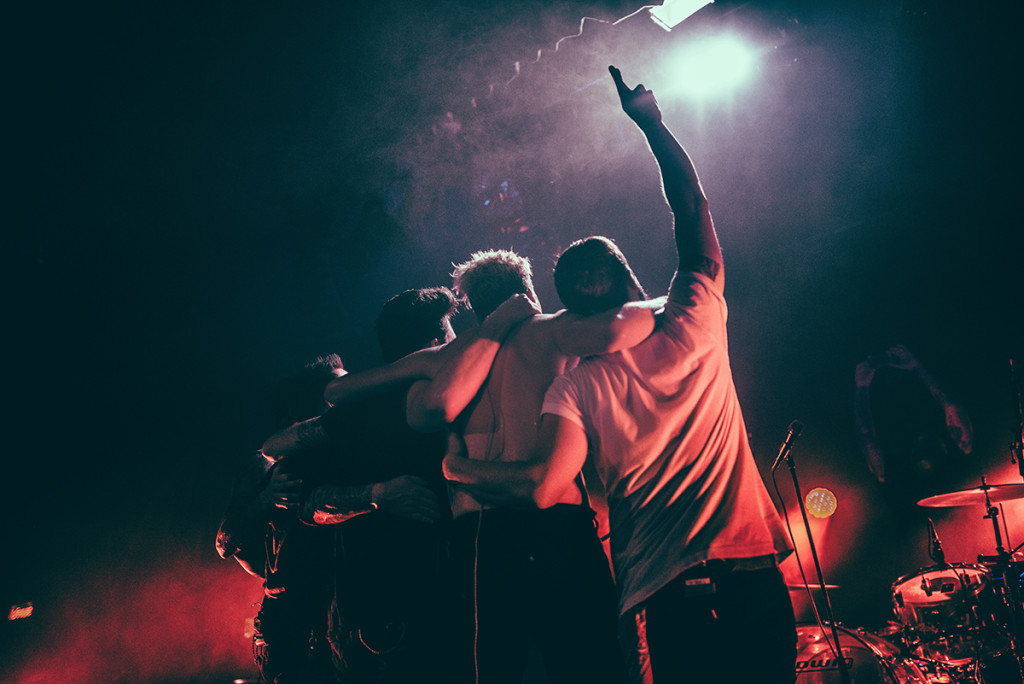 This is one of my favorite articles I've written, and I'm happy to have shared the night with my dear friend Jake Gravbrot. For his full image set (and a view from his all-access pass for this historic tour), please visit Rain City Ambience.
---
October 13, 2014, Showbox at the Market. Anberlin's last Seattle show, ever. Sold out. 1,100 cap.
I have a few mixed confessions about Anberlin, but the facts are straight: I laid an old friend to rest that night.
I already know, Anberlin has been around 12 years. I've only known them for 10, so I'm starting there.
I remember discovering Anberlin in 2005, between Blueprints For The Black Market and Never Take Friendship Personal for them, and between eighth and ninth grade for me. In the undeniably awkward whole of my youth, I heard 'Paperthin Hymn' once and couldn't get enough. Having mostly listened to pop punk and pop rock prior to this discovery, I was deeply drawn to the massive, muscular rock, Stephen Christian's sleek vocals, and boldly honest lyricism.
I remember hours with 'Paperthin Hymn': stewing on every word, noting carefully the genius verse that rhymed twice before giving way to the magnetic prechorus, the titanic lyrical wall in the chorus, the triumphant declaration of faith, that gigantic vocal leap that is the bridge.
I remember poring over the energetic music video for 'A Day Late', low def as it was (and still is, somehow), and studying Anberlin as a polished band blowing out every hint of a sophomore slump.
"This," I thought to myself, "is what rock looks like." Since it was too late at the time for me to pick up guitar and keep up with my talented guitarist friends, I watched with increasing interest what Deon Rexroat was doing with the bass.
I remember when Anberlin was my favorite band. It was a simpler time. I looked for music that was good, spoke to me, and, if not overtly religious, was at least morally respectable in lyricism.
I remember putting Anberlin and Acceptance lyrics in my AIM profile. I remember being that guy, constantly urging my friends to listen to these relevations of rock and not the poor drivel spoon fed to radio consumers.
I remember when Acceptance shuttered, and Christian McAlhaney joined Anberlin to take Nate Strayer's place.
I remember when Cities came out, and it was the soundtrack to my freshman year in college. Endless plays of 'Dismantle. Repair.' and '(*Fin)' on my knockoff iPod kept me sane through the blustery winter quarter. I remember learning to play 'The Unwinding Cable Car' on my acoustic before I knew 12 string guitars existed. Feeling like I'd failed Design School before I'd even applied. Waking up alone in the house while my parents went to the hospital for mom's treatment.
I remember when New Surrender dropped, and with it, the teeth on 'The Feel Good Drag'. I see why they did it now, but at the time I couldn't let go of the ferocity and pure rage woven into the original. 'Retrace' was the song to beat on this record, but New Surrender cemented the hyper-polished rock that came to be Anberlin's signature. I was too busy digging my way into pop punk and post hardcore instead.
I remember seeing Anberlin headline (and probably sell out) El Corazon, on tour with There For Tomorrow, Straylight Run, and Scary Kids Scaring Kids*.
I remember when Deon partnered with To Write Love On Her Arms to create "the Deon": the TWLOHA logo printed on a girl's long-sleeved, hooded t-shirt. I already loved the TWLOHA mission, and after seeing Deon wear a few in show photos, I absolutely had to have one. I still have it. Baby blue. Girl's XXL.
I remember buying my first bass at Guitar Center and settling on a Fender Jazz, just like Deon. He prefers an offset Fender-style Jag these days, and I can't blame him for that. So do I.
I remember Dark Is The Way, Light Is A Place. I remember edging back into Anberlin's arms with the gorgeous 'Impossible' music video, the alluring album art, and the aching heartbreaker 'Art Of War'.
I remember Vital, and sitting in my car floored by how far Anberlin had come in their songwriting. Simple, massive choruses built on Stephen's astronomical vocals. I remember when Vital was re-released as Devotion. I didn't buy it.
I remember meeting my dear friend Jake, and hearing his behind-the-scenes stories of years with Anberlin, and the deep ties that the band has with our city.
I remember when lowborn was announced, and the wake up call that was news of the band's imminent breakup. I've lost a lot of bands through the years, but of the old guard, Anberlin was the last band I thought would call it. Jake and I texted a lot that day.
I remember when Anberlin announced that they would be on the Vans Warped Tour in 2014, including Seattle. I remember being excited about seeing Nate Young drum with Yellowcard, which meant that I would see him take on the kit twice in one day. I remember being torn between a late afternoon Neck Deep set concurrent with Anberlin. I ran out of Neck Deep's set halfway and caught the end of Anberlin in the White River Amphitheater. Worth.
I remember going to Silver Platters and picking out my lowborn cover: ochre, with green nail polish.
Here's a confession: I still haven't listened to lowborn. I can't bear to. Let it be known that I bought it, though.
I remember when Anberlin's farewell world tour was announced, and felt an overwhelming sense of relief when I saw that Seattle was on the tour bill. It had to be. We had to be.
I remember buying tickets minutes after they went on sale. The Showbox couldn't hold Seattle's love for these veteran rockers, and I wasn't about to be left behind.
I remember heading to Showbox the night of the show, anxious and unsure of what to expect. I remember entering the packed out (and sold out, by then) venue, scoping the fantastic date-specific tour merch, and heading to take my usual place: stage right near the front.
I remember when Anberlin burst onto the stage to deafening cheers, and blasted through 'Never Take Friendship Personal', 'We Owe This To Ourselves', and (my heart stopped) 'Paperthin Hymn'.
I remember watching Joe Milligan tear through the face-melting solo on 'Readyfuels', switching between a handful of gorgeous guitars and searing the fretboard on every single one. I was the one grinning stupidly up front, Joe.
I remember when Stephen high-fived or otherwise engaged almost every person who crowdsurfed to the front.
I remember when the band played '(The Symphony Of) Blasé', and the line "This is our last goodbye…" felt all too real. I remember when Stephen told us about coming up with an early version of 'The Unwinding Cable Car' while walking through Seattle. I remember when the band played one request: 'Dance, Dance Christa Päffgen', and I couldn't believe that I'd totally forgotten about the gorgeous NFTP closer. To the person or people who requested that song: Thank you, thank you, thank you.
I remember feeling disappointed about not remembering many of the lyrics of the songs I'd spent years memorizing, and I remember tears coming to my eyes when the words to 'Dismantle. Repair' came back to me in the middle of the second chorus. Dismantle me down.
I remember thinking "This would be a great time for people to throw up the lowborn crossed fingers…" And Stephen did.
1,100 other people did, too.
I remember when the band closed out with 'Godspeed' and 'Feel Good Drag', and I made my peace with the radio-friendly version of the latter.
I remember when the venue blacked out, and Anberlin left the stage to heaps of praise, only to return for the finale, '(*Fin).'
I remember when Stephen, true to form, demolished the unbelievable heights in the song's gigantic bridge. I remember when he leapt onto the rail of the photo pit and threw himself into the roiling crowd.
I remember when Joe, Deon, Stephen, Christian, and Nate joined together on stage to say goodbye to our city one last time.
I remember.