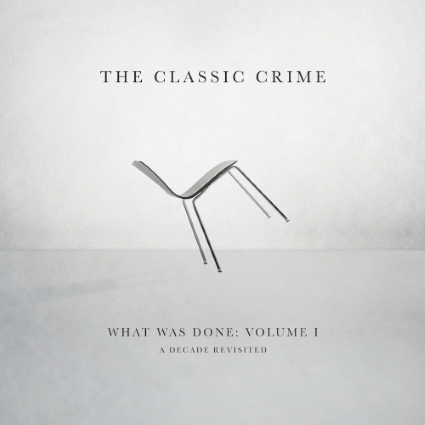 To celebrate 10 years as a band, Seattle's The Classic Crime is releasing the highly anticipated What Was Done: Volume 1 on October 27th (today!) through BadChristian music. The album is a collection of fan favorites through the years, rearranged as acoustic songs or reinterpreted with the band's added years of experience.
The first and most notable aspect of this project was the Kickstarter campaign. Raising well over 300% of the initial campaign goal, the overwhelming fan response was for this cornerstone local band to hit the studio again. Though they have been quieter for the last few years, frontman Matt MacDonald and wife Kristie have been hard at work in the meantime with side project Vocal Few, the delightfully charming acoustic duo undoubtedly growing MacDonald's acoustic studio chops.
Regardless, The Classic Crime is in great form with What Was Done: Volume 1. Boasting 12 tracks and two bonus songs pulled from the band's handful of full-lengths and EPs, MacDonald, guitarist Robbie Negrin, drummer Skip Erickson, and bassist Alan Clark have showcased a whole new side of TCC. Eschewing the massive rock sound that the band has come to be known for, WWDV1 is a delicate set of songs led by MacDonald's confident and refined voice.
Opening with a wonderful version of 'All The Memories' off Tooth & Nail debut album Albatross, the band hits the ground running with rich, full acoustics, and a string-heavy and acrobatic arrangement sure to bring a smile to longtime fans.
A dynamic version of 'You And Me Both' follows, presenting a lean acoustic look at the 2012 favorite off The Phoenix. From the soaring strummings of 'Salt In The Snow (Revisited)' to the tender look at 'Who Needs Air (Revisited)', the band has masterfully created a new album while faithfully preserving the band's much-lauded songwriting.
A flexible palette of instruments is featured throughout, including strings, brass, and piano parts. Tracks like 'God And Drugs (Revisited)' take familiar songs in new directions, while songs like 'Headlights (Revisited)' lay bare the strength of the band's writing by depending wholly on MacDonald's voice and simple instrumentation.
Perhaps the only shy moment of the album is 'The Fight (Acoustic Version)', an acoustic take on the band's roaring 2005 single that trades some of the original heat and fire for emotion and vocal sincerity. While not the strongest on the album, even the "weaker" offerings on WWDV1 are exceptional in performance and production. It may not be anything totally new, but every track is thought-provoking, nostalgic, and smartly arranged with this Seattle quartet's growing talent, making this album well worth the dozen dollars it'd cost at your local record shop. Don't miss this band with Emery on November 21st at El Corazon.