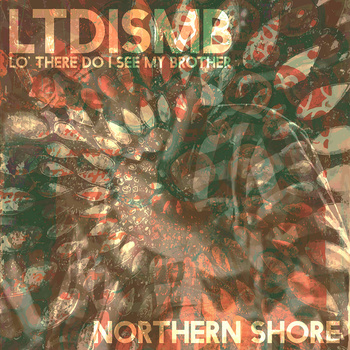 Pacific Northwest musicians have been telling me for ages to listen to Lo' There Do I See My Brother, but it wasn't until a copy of the much-anticipated Northern Shore dropped into my inbox that I had a chance to actually listen.
In regards to waiting this long to listen to them, mistakes were made.
From the instrumental first track "Here I Stand" to the mammoth pair of closers, this Tacoma quintet has created an exceptional new offering due January 2015. 11 gigantic tracks form Northern Shore, a collection of post-rock wonders that demand attention.
One of the most notable characteristics of Northern Shore is its length. No song is much shorter than four minutes, and while most clock in at the four and five minute range, the last two tracks weigh in past the six-minute mark.
The quiet pluckings that open "Here I Stand" serve as an appetizer for the rest of the record, unexpectedly bursting into a fuzzy roar indicative of the weight of what's to come.
"You Can't Take It With You" follows, a tidy rock cut that balances pensive lyrics and huge arrangements, a melee that remains expertly reined in while threatening to erupt into all-out chaos. Lead vocalist/guitarist Adam Wolbert keeps tight control over his voice, and receives all-star support from singing guitarists Caleb Baker and Tor Caspersen, singing bassist Ahren Lanfor, and drummer Will Chi.
The record barrels on to "Of The Earth", a shapeshifting grunger that transforms into a face-melting post rock dream. The second major instrumental "We're Not Making Pianos, We're Building Machines" keeps the momentum up without a hitch. There are no dull moments on this compilation, as even the quiet moments showcase delicate arrangements rivaling those of Moving Mountains.
The record is in constant motion, sliding between the tender strummings of "Twenty Three", the organic instrumental echoes of "Ephemeris", and the gripping heat of "Caught In The Shallows: Part Two". Wolbert, Lanfor, and guitarists Baker and Caspersen deftly deliver heavy, self-reflective lyrics with vivid nature scenes and vast soundscapes.
Ninth track "Do Androids Dream Of Electric Sheep?" is one of the more distinct instrumentals of the collection. The Philip K. Dick reference sees the blending of curious lead tones with a swirling tide launching into the muscular penultimate piece "At The End Of All Things". Weighty blooms of delay serve as the backdrop to remarkably haunted lyrics before giving way to the album's final words.
Album closer "There Is Life In Death" is a final instrumental both more intense and more lengthy than the others. Warm, diverse, and vastly moving, this towering landmark record closes out without a word. This is a 2015 release not to miss.