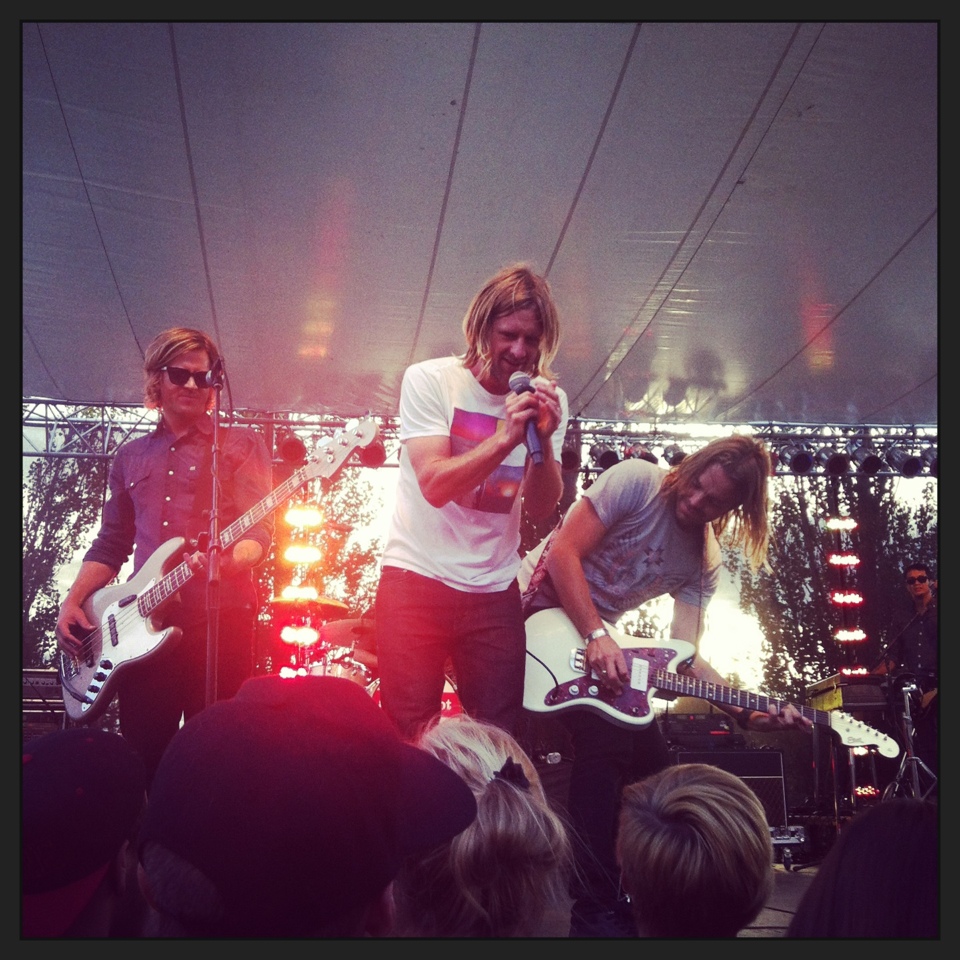 Instead of Seattle music's biggest night at the Showbox last Friday, I made the trek to see Switchfoot at Wild Waves, a band I've had a love/somewhat dislike relationship with for years. With 'Hello Hurricane' (2010) and 'Vice Verses' (2011) out long enough now for me to really soak in, it's turned more into love, but the San Diego quintet more than makes up for a handful of weak songs through an unmatched live show.
Tickets were pricey, but being at a secluded outdoor venue of a disappointing theme park at Summer's end, buying a Wild Waves ticket to get a few line-less rides in and a second row spot in the pit seemed more than reasonable.
Wild Waves' amphitheater is nuzzled in a corner of the park, far enough to distance the small stage from the general Wild Waves noise and chaos. Incredibly steep hills/seating ushered me toward the pit, where I wasn't the only one openly wondering if this humble stage and crowd weren't a little beneath the Grammy-winning Californians.
Apparently not. Switchfoot stormed the stage right on time (no opening act!), and I was reminded that this 7-year band is now albums removed from the up-and-coming rockers I remember.
The set opened with a rumbling intro to Stars, the first single off 2005's 'Nothing is Sound'. Frontman and guitarist Jon Foreman's magnetic stage presence and perfectly toned rock inflections immediately brought the crowd into an excited frenzy. The band laid out a handful of familiar favorites to start the night off, including Hello Hurricane and breakout hit Dare You to Move.
It quickly became apparent that Foreman's time as a guitarist takes a backseat to engaging the crowd and nailing vocals while lead guitarist Drew Shirley and talented multi-instrumentalist Jerome Fontamillas fill out the band's densely layered sound. Founding drummer Chad Butler and Foreman brother and bassist Tim build a rock solid rhythm section to hold the low end, delivering consistently studio-perfect performances. All told, Switchfoot's live show is unstoppable.
Early in the set, there were some things I noted that made an already energetic show even more enjoyable. The band had flown up specifically to play this night as an excuse to get out of the studio. Although they looked exhausted from studio and travel time, the band was also genuinely happy to be performing. The cool summer night was full of Jon hugging bandmates during instrumentals and massive grins plastered across all five band members' faces.
Foreman was up to his typical stage antics, singing will full concentration while throwing himself around the stage and perching atop the bass drum. During an extended rendition of Restless, Foreman took his wireless mic in a beeline through the pit and halfway up the amphitheater seating area, high-fiving, singing, and sidehugging his way through the crowd before climbing back onstage to finish the song.
The band's staggering 90-minute set was full up with classics and favorites through the last four Switchfoot albums, and even bits of Jon Foreman's solo material. Old favorites like This is Your Life, Meant to Live, and Mess of Me were happily mixed in with smaller hits like Awakening, The Sound, and Dark Horses.
After an exhausting first set, the band took off for a moment's break before blowing it out with a "one-last-hurrah" style encore set. The night closed with a few encouraging remarks and an emotional Sing it Out before the band got together for their trademark photo finish.
If you missed Switchfoot this time, be sure to pick up tickets for the upcoming Fading West tour, available at the Switchfoot website. The band will come through Seattle again November 15th at the Moore Theater, and will play a handful of dates in Oregon as well. If you haven't seen this long-running Rock staple live yet… make it happen. These veterans will make any concert experience unforgettable.