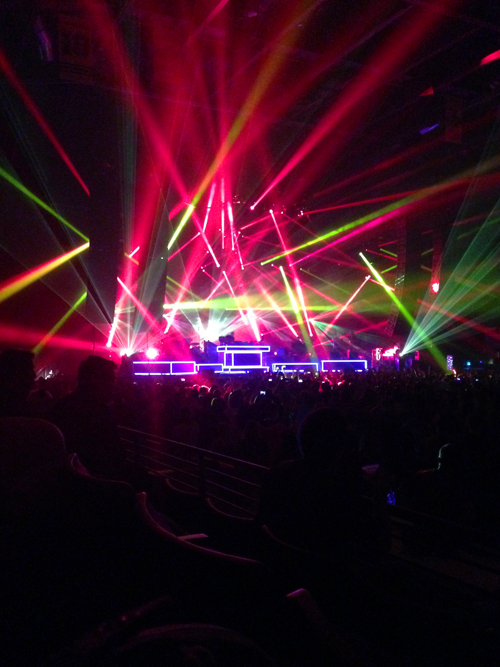 Last Friday, I had the pleasure of going to my second electronic show, for Seattle duo Odesza and massive Colorado artist Pretty Lights at the Showare Center in Kent. Pretty Lights' current West coast run sees him headlining a string of arenas, with names like Tycho, Emancipator, Gramatik, and of course, Odesza, offering touring support on various dates.
I've been to Showare for a few concerts, and I know that going early is the name of the game for easy parking and minimal frustration. I got in around 7 and made my way to the seating area nearest the stage. With about an hour to spare, I figured getting comfortable and taking in the sights would probably be the best way to pass the time.
After months of posting news on the VERY busy 2013 that Odesza has had, I was looking forward to the live experience. The duo did not disappoint. Considering it's hardly been a year since Seattle producers Catacombkid and BeachesBeaches brought their diverse backgrounds together to form Odesza, the pair has been touring and releasing music at an incredible rate. With the new 'My Friends Never Die' EP, a remix of that EP, and the start of a playlist series, the 'No Sleep Mix' this past Fall alone, this young act has proven to be one to keep an eye on.
Odesza hit the stage at 8 on the dot and dove right into their hour set with their signature moody rhythmic bass washes and plentiful vocal samples. Much of the night was devoted to beautiful blooms of texture and elaborate synth parts, waves of bass and low-key hip hop beats, perfect for a late night drive on the coast. I might just do that later, actually.
I caught snippets of notable samples like Gotye's Somebody That I Used To Know, and I'm a little sure I heard Ellie Goulding in there as well (always, ALWAYS a plus in my book). I was also pleased to hear familiar Odesza material, like Without You and My Friends Never Die from the recent EP of the same name. Snippets of exotic instruments, including what I may have heard as erhu and hammered dulcimer (???) parts added to the mystique. The title of EDM doesn't necessarily fit the not-super-dancey-but-definitely-fun Odesza vibe, but it was an enjoyable opening hour from a pair of very talented musicians. My respect for them only grew when a show-halting technical difficulty occurred about 40 minutes into the performance. The pair sloughed off the hiccup and went right back into music moments later. I'm proud to say Odesza is part of the Pacific Northwest music scene, and I'm excited to see where their career will take them. I'll be looking forward to the next batch of songs… probably in a week or so at the rate these guys produce new material.
Check out all that there is to know about Odesza on their website, and treat yourself to the new EP and remix EP on SoundCloud.
To pass the (surprisingly long) amount of time between Odesza and Pretty Lights, I shared a snaggle of deliciously unhealthy nachos, chatted with some high school friends, got carded by very rude security staffers for beer I CLEARLY wasn't drinking, and took a stroll through the outer arena. I still think of that cheese sometimes.
Soon enough, Pretty Lights' stage setup was prepped and lit. I was pleasantly surprised to see something like a full band present, with a sizable drum kit and several keyboard rigs. Minutes later, Pretty Lights came on stage and kicked the whole night up a gear.
One does not simply have a moniker like 'Pretty Lights' and then not own and operate an outrageous light show. Derek Vincent Smith, the mastermind and audio/visual architect behind the genre-bending act, was armed with his production rig and nothing short of a city's worth of lights behind him. Accompanying the young musician was the live drummer, a pair of keyboardists, and a trumpet and trombone to bring the tinges of jazz Pretty Lights has come to be known for.
The catchy blend of jazz, electronica, and dubstep founded on huge hip hop beats and waves of synthy bass kept the quite-full dance floor showgoers plenty busy through the night. I saw Smith sling a 4-string bass for a handful of songs to lend further credibility to the full band effect, and though it was often hard to note where one song ended and another began, I definitely heard cuts off of 'A Color Map Of The Son', Pretty Lights' impressive 2013 release.
Known for involving analog recording and assorted lo-fi recording techniques, Pretty Lights' performance was similarly gritty and imperfect in a pleasing way. While many electronic artists have absolutely studio-perfect live shows, Pretty Lights' full band brought a certain life and vitality to flavor the perfection of the digital parts, humanizing the transitions between jazzy, dance-minded electronic, and hard dubstep.
While the music was first-rate, Pretty Lights' stage effects and lighting stole the night with colored spotlight arrays, LEDs, fog machines, and always most importantly, lasers. The visual experience was nothing short of breathtaking, and synced so tightly with the music, brought more awe to a powerful live experience. These two acts at a decked out venue made for a great night with great company.
I drove home with afterimages in my fields of vision and a grin on my face. Electronic/EDM may not be my forte, but it does have its place, and I'm happy to see Seattleites in it for the long haul.