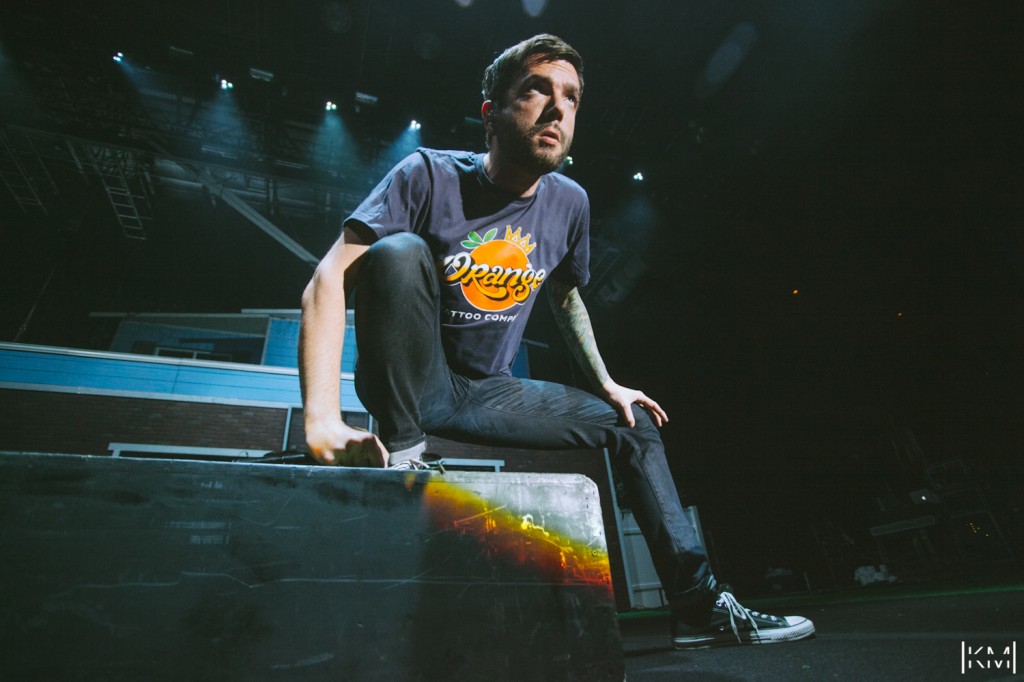 (For the full article featuring pictures from RCA photographer and founder Kelly Mason, head to Rain City Ambience!)
I should first note that last Tuesday's House Party Tour at WaMu Theater was without a doubt the largest rock show I've ever been to, festivals and -paloozas aside. This was also the most I've ever intentionally listened to All Time Low.
The last time I was at WaMu Theater was more than a year ago, for Skrillex' breakout Mothership Tour. As one of Seattle's largest indoor venues, it was awe-inspiring to see the planning and effort that went into such a truly massive EDM production. With the space and facilities available at WaMu theater, I'd already seen ambitious productions at the venue, and for The House Party Tour, WaMu delivered again.
The House Party Tour was a spectacle worlds apart from the EDM show. I'd purchased tickets as soon as they went on sale, eagerly anticipating my first A Day to Remember show and a second with Pierce the Veil. I about blew a gasket when I found out The Wonder Years was the opening act.
Disappointingly, the admissions line stretched well past the long side of CenturyLink Stadium, and by the time I made it in, the Pennsylvania pop punk sextet was well into their short set.
This Summer at Warped I saw The Wonder Years blow away a small but devoted main stage crowd, and I was expecting a similarly high-octane, stage-stomping performance. Although Dan 'Soupy' Campbell and the gang more than did their part, the limited popularity of the band in the Northwest brought a gracious but muted audience response. The band roared and howled through a set spanning much of their catalog, including heartfelt performances of songs like Local Man Ruins Everything, Don't Let Me Cave In, and the first single off 2013's 'The Greatest Generation', Passing Through A Screen Door. It's a shame that this band isn't bigger here yet, since their first-rate songwriting is only made better with a frenzied and frenetic stage presence. I'll be sure to catch them next time they come through Seattle for a small show experience.
I was surprised to hear Pierce the Veil was up second, which is to say I had no idea All Time Low had such a massive following. The stage setup included lit marquee style letters 'PTV' strung up above, a row of beat up amp cabs, and a Vegas-inspired backdrop. Known for an intense, Latin-influenced sound lovingly dubbed 'Mexicore' after much of the band's ethnic background, the San Diego quartet seemed to need a warm-up of a few songs before hitting their stride. The band performed admirably throughout, but a few of the first songs felt slow compared to their studio counterparts, and the usually dynamic trio of frontman Vic Fuentes, lead guitarist Tony Perry, and bassist Jaime Preciado wasn't especially active until partway through the set. If PTV was having an off night, the crowd didn't seem to notice, and once warmed up, the quartet was electric. Perry and his iconic green blood splatter guitar ruled stage left, and at stage right, Preciado pulled his "normal" bass flipping antics and wild stage somersaults. Fuentes brothers Mike and Vic delivered powerful performances, and the crowd went wild when ADTR's Jeremy McKinnon came out for the last chorus of his studio appearance in Caraphernelia. The band ended with a furious rendition of King For A Day, and quickly stepped off the stage for All Time Low to set up.
Of the four bands on the bill, All Time Low was easily the least technical in musicianship, but also the most radio friendly. Maybe that says something. Regardless, the Baltimore pop rock kings charged the stage to a crowd in uproar. I noticed immediately that the band brought a touring vocalist and a touring guitarist, which, given ATL's chunky powerchord-heavy songwriting, essentially made for three rhythm guitarists. I also noticed that for the most part, ATL was static onstage. Frontman Alex Gaskarth and bassist Zack Merrick were largely tied to their mic stands, leaving the task of pumping up the crowd to "lead" guitarist and primary troublemaker Jack Barakat. The band nailed hits old and new, including songs like Weightless, last year's The Reckless And The Brave, and 2009 breakout hit Damned If I Do Ya (Damned If I Don't). One of the most memorable moments of the night was when Gaskarth and Barakat invited a fan up on stage to sing a song with them. The guest vocalist accepted mic duty like a champ and sang confidently with excellent stage presence. That was nice. All Time Low ended their set with the classic Dear Maria, Count Me In, a song that's somehow already six years old. Summed up, All Time Low was fun and played a tight set of hits, but I wouldn't be in a rush to see them again.
The break between All Time Low and A Day to Remember was the longest of the night, but well worth the wait. The "House Party" part of the tour finally became apparent, with a two-story house facade built to frame the stage. Frontman Jeremy McKinnon, guitarists Neil Westfall and Kevin Skaff, bassist Joshua Woodard, and drummer Alex Shelnutt opened with the first single off 2010's 'What Separates Me From You', straight rocker All I Want. The Florida natives kept the energy up with older songs like I'm Made Of Wax, Larry, What Are You Made Of? and Fast Forward to 2012. All five members were energetic and engaging, and the musicians delivered a fantastically true-to-studio foundation for McKinnon's massive vocals. McKinnon effortlessly swapped between his strong singing and thunderous screaming, and dominated the stage without missing a beat.
I was pleasantly surprised by the sheer production value of ADTR's set, typically unseen in the Warped style circuit. Awesome touches like perfectly timed columns of fire in the 2nd Sucks bridge and the human hamster ball McKinnon used to crowdsurf through the venue made an already unforgettable headlining set more intense. I was also surprised by an acoustic interlude built around 2005's You Had Me At Hello and more recent album closer If It Means A Lot To You. Of course, with the massive build at the end of the second song, the band brought the energy and volume back up to full force with It's Complicated. 
Despite the ongoing legal battle with former label Victory Records surrounding the band's fifth studio album 'Common Courtesy', a handful of songs off the album were still played. Previously premiered Violence and a brand new track titled Dead And Buried saw the band shift pleasingly toward the knuckle-dragging chugfests of the 'Homesick' days. The details on the release date, if there is one, should be out in the next few weeks.
ADTR closed out their set with old favorite The Plot To Bomb The Panhandle, and after a minute or two of cheering for an encore, the band returned with an final set consisting of Violence, A Shot In The Dark, and The Downfall Of Us All.
In summary: The four bands together made for a fantastic experience. I'm glad to see more production and investment go into these particular brands of rock, and I look forward to seeing most of these acts again on the Northwest show circuit. But that's way more than enough of me.