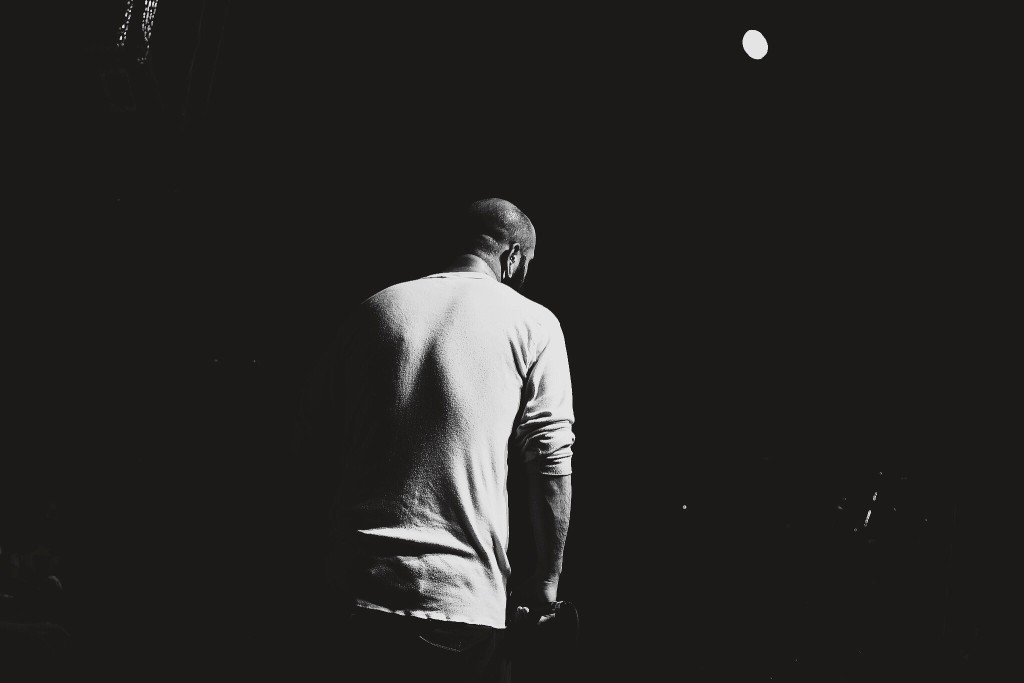 Photo courtesy of Andrew Mwangi. For the full image set, please visit Rain City Ambience.
Last weekend, Being As An Ocean and Fit For A King headlined Seattle's Studio 7, making their way up the coast with Gideon, Wolves At The Gate, and Capsize.
Washington bands Resolve And Reside and Vessels kicked off the night, both bands hard at work keeping PNW hardcore and metal fresh and new. Both also have new material and tours in the works, so be sure to keep up to date with them on Facebook.
California band Capsize was the first of the official tour lineup to take the stage, pushing their brand new record The Angst In My Veins. With album artwork circulating wildly on Twitter and Tumblr after only a week out on Equal Vision, Capsize has been making waves with their ferocious, lean-and-mean take on hardcore. Listen to 'Linger' (not at all to be confused with The Cranberries hit single) below.
Solid State veterans Wolves At The Gate kicked off next, the Cedarville OH band known for effectively fusing faith-based lyrics with furious metalcore touring in support of new album V x V. Now two records and an EP reissue deep on Solid State, the dual vocalists in guitarist Steve Cobucci and screamer Nick Detty propel this quartet through muscular melodic metalcore with no-nonsense heaviness.
Alabama breakout Gideon threw down next, a masterful young group just about ready to release their third album and third Facedown/First Strike release Calloused. Straightforward and brutal, this exciting group seared two circle pits into the eager crowd. Fit For A King guitarist Bobby Lynge lent his axe to round out the lineup and support brutal vocalist Daniel McWhorter, the band's dry chugging easily pushing the pit into a frenzy. Blasting through new songs 'Calloused' and 'Survive', as well as old favorites like 'Gutter' and 'Prodigal Son', Gideon proved that their live performance meets and surpasses every bit of the heat and intensity of their studio recordings.
Fit For A King took the stage second to last, the Dallas quartet and Solid State roster leader blooming a massive metalcore sound with only four members. Vocalist Ryan Kirby lit the venue up with his volcanic screams, stirring the crowd into the most violent fever of the night with songs like 'Warpath' and 'Descendants'. Guitarist Bobby Lynge returned to the stage with singing bassist Ryan 'Tuck' O'Leary and singing drummer Jared Easterling for the band's earthquaking rhythms. Laying down new songs from the upcoming Slave To Nothing were featured prominently, including second single 'Young And Undeserving' (new music video below), and met with enthusiasm. Slave To Nothing is due out next Tuesday, October 14th, the band's third release with Solid State.
Headliner Being As An Ocean came up last to a slighty smaller but undeniably fervent crowd. The Alpine California band is currently out supporting this year's new release How We Both Wondrously Perish, a titan of a release through Ohio label InVogue Records. Lead vocalist Joel Quartuccio and new clean vocalist/guitarist Michael McGough plowed through a huge set of favorites off both the new and old record, Dear G-d, the 2012 breakout album of this talented hardcore band.
Despite only being a few years old, the quintet is immensely professional in their performance. Heart and passion are apparent from every member, from Quartuccio and McGough to lead guitarist Tyler Ross, bassist Ralph Sica, and new drummer Connor Denis. Waltzing seamlessly between softly sung and raging roars, the band teased out a flawless live set featuring songs like 'The Hardest Part Is Forgetting Those You Swore You Would Never Forget' and 'L'exquisite Douleur'. Fully engaged and energized, this band's deeply poetic song style is a must-see in every city.
Take a look below at a few of Andrew Mwangi's snaps of the night, and if you like what you see, hit him up on Facebook, Twitter, Tumblr, or Instagram!