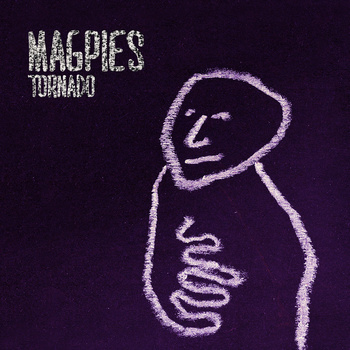 Longtime friend and Effectsbay/Rattlesnake Cables/Pedal Labels mastermind Hank Donovan recently reached out to me about a band he's been working with for the past few years, Missoula Montana's Magpies. This raucous indie-rock quartet has just released their newest effort, Tornado, and it's a doozy.
While Donovan handles guitar, the band is filled out by singing guitarist Tolan Harber, singing bassist Samantha Pollington, and Jamie Rogers on the drums. The band's sound is fast-paced and in-your-face, raw indie rock buzzing through the album's 10 songs.
Harber's lower range and Pollington's crystal clear high vocals each have their own characteristics, but build on each other for a curiously satisfying sound, trading each other for the lead parts and often diving into complex duets. The roiling, driven style is immediately apparent on album opener 'Parties Unknown Until Now', an energetic jam that switches deftly between strummy indie and punk-tinged rock.
As expected with a guitar community figurehead in the band, the musicianship of the Magpies' album is top-notch. Guitar tones perfectly track the dynamic intensity of the vocals, and match well with Rogers' pointed and powerful drumming. Musicianship is notable throughout the record, a loose but confident flavor of rock as engaging as it is diverse. The band moves swiftly through sonically diverse tracks, keeping the energy level high without sounding repetitive, as displayed on 'Alkali Flats' and 'Barn Burner'
Growly, moody songs like 'The Quiet Roar' and 'Suspension Bridge Over Disbelief' contrast deeply from the warmer tides of 'Jealous Amounts' and eight minute closer 'Buttercup Revisited', the clear standout for album favorite. Delicate picking and singing give way to waves of overdrive and feedback, a journey as much as it is a song. Definitely give Magpies a shot if you're looking for something raw, edgy, and locally grown!