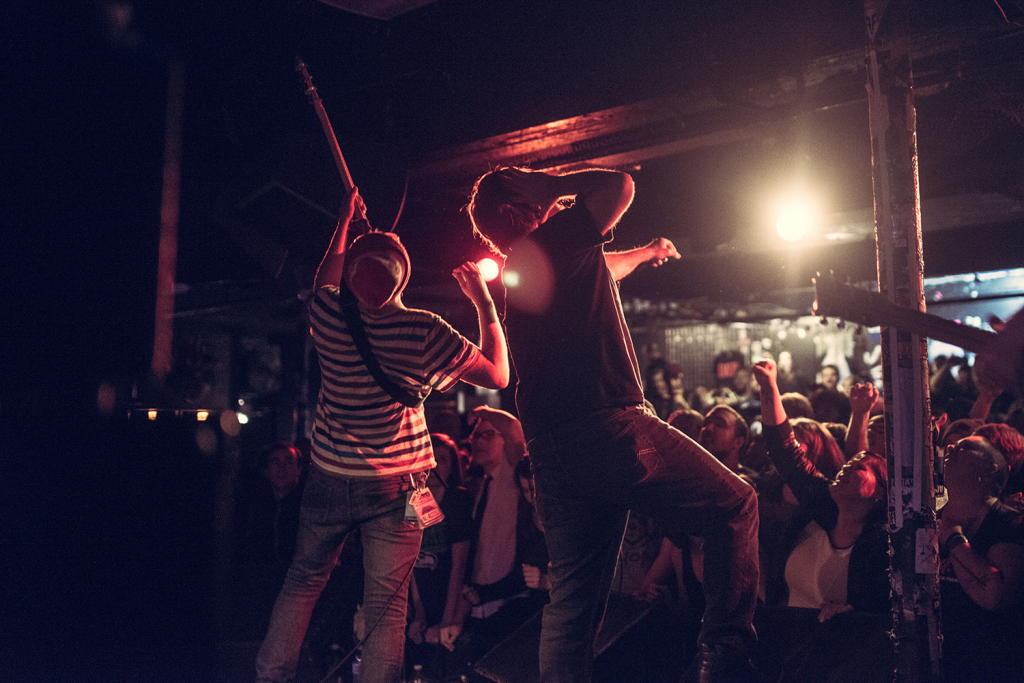 Image courtesy of Jake Gravbrot. For the full image set, please visit Rain City Ambience.
Last Friday, Seattle heroes Emery and The Classic Crime wrapped up a two-week tour in their hometown's familiar El Corazon venue. The pair of long-running Seattle bands brought Louisville Tooth & Nail band Artifex Pereo on tour while inviting a trio of PNW acts to open the night: A Taste Of Daylight, Black Sky (formerly To Paint The Sky), and talented pop punk band Shoreline Drive.
Between A Taste Of Daylight's progressive post-hardcore, Black Sky's heavy rock, and Shoreline Drive's triumphant pop punk set despite several technical difficulties, the night was primed for three huge acts from the tour bill.
Kentucky sextet Artifex Pereo took the stage first, a newer name to us but a band that immediately demanded the attention of the full venue. Sitting sonically between Circa Survive, The Fall Of Troy, and Chiodos, this powerful six-piece threw out a furious set of songs swimming with skill and experience. Currently supporting 2014 release Time In Place, the band boasts fiery fretwork, moody synth parts, fast-paced time changes, and a vocals sitting impressively between Issues' Tyler Carter and Chiodos' Craig Owens in singer Lucas Worley. As with most sextets, the energy and intensity onstage of Artifex Pereo was vicious, all six members focused on the band's complex songwriting. It's clear that this five-year band is off to great things with Tooth & Nail.
Tooth & Nail alum The Classic Crime took the stage next, the decade-running Seattle quartet as comfortable and confident on a hometown stage as ever. Frontman Matt MacDonald stormed off with a series of the band's huge rock cuts, supported by guitarist Robbie Negrin, bassist Alan Clark, and drummer Paul 'Skip' Erickson. Though the band is fresh off releasing the Kickstarter-demolishing What Was Done: Volume 1, an album full of acoustics, this longtime quartet delivered a huge list of loud, confident rock. Among the list of favorites was "The Coldest Heart", "Vagabonds", "Beautiful Darkside", and "Seattle" (but interestingly, not "The Fight"). If you missed The Classic Crime this time, they'll be playing with our friends The Wild Things at the Nectar Lounge on December 11th.
Emery blasted away the rest of the night with "Studying Politics" and "Disguising Mistakes With Goodbyes". Now hard at work on their new album You Were Never Alone and BadChristian, the band continues to set new standards for "bands hard at work". Frontman Toby Morrell was as energetic as ever, boasting an impressive arsenal of vocal support from guitarist Matt Carter, keys player Josh Head, and touring bassist Jeremy Spring. Longtime drummer Dave Powell maintained the quintet's vicious pace as each member contributed to Emery's trademark intensity. Confident and comfortable on a hometown stage, Emery relentlessly knocked out a diverse mix of songs featuring "The Party Song", "The Butcher's Mouth", and "Listening To Freddie Mercury", finally closing the night by asking about what song the crowd wanted to hear as an encore. With a deafening response of "Walls", the night closed out on an incredible high note. Emery delivered in every way as they always do.
Check out some pictures from longtime friend of RCA Jake Gravbrot. If you're looking for portraits or haircuts, he's your guy. Check out his work on Facebook or on his professional website.