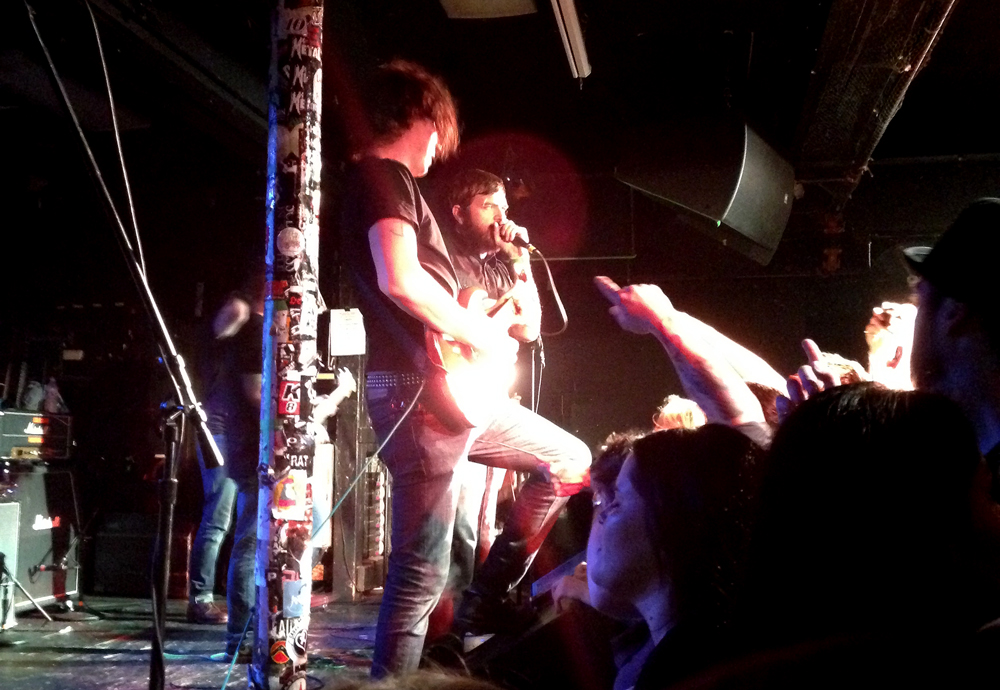 Ten years, almost to the day. 9 years, 353 days.
Last Friday night, Emery kicked off the West Coast side of their 'The Weak's End' 10th Anniversary tour at El Corazon. With Peace Mercutio and The Classic Crime representing Seattle and Long Beach's This Wild Life in tow, the second half of the tour was off to a sensational start. As with the East Coast leg, the lineup is largely acoustic, with stripped-down Emery songs and Q&A sessions between sets before an electric playthrough of 'The Weak's End'.
I should note that I'm generally not huge on acoustic music as a whole but with a stacked lineup like this, I couldn't help but reconsider. It was also surprising to hear such fantastic sound quality for the acoustic sets in light of El Corazon's standard fare of hard rock. The acoustic highs were crisp and chimey without being shrill, and the bass and percussive lows were punchy and tight.
Shoreline Drive
Seattle band Shoreline Drive (@Shoreline_Drive) opened the night with acoustic translations of their typical pop punk/pop rock sound. Though brief, it was a toe-tapping set with notable songs like Superhero played on doubled acoustics, electric bass, and cajon. Frontman Devin Damitio and bassist Levi Goode traded challenging vocal parts while drummer Skylar Faucett and guitarist Rosh Siefken filled out the dynamic range. Definitely interested to see where this promising young Seattle band goes!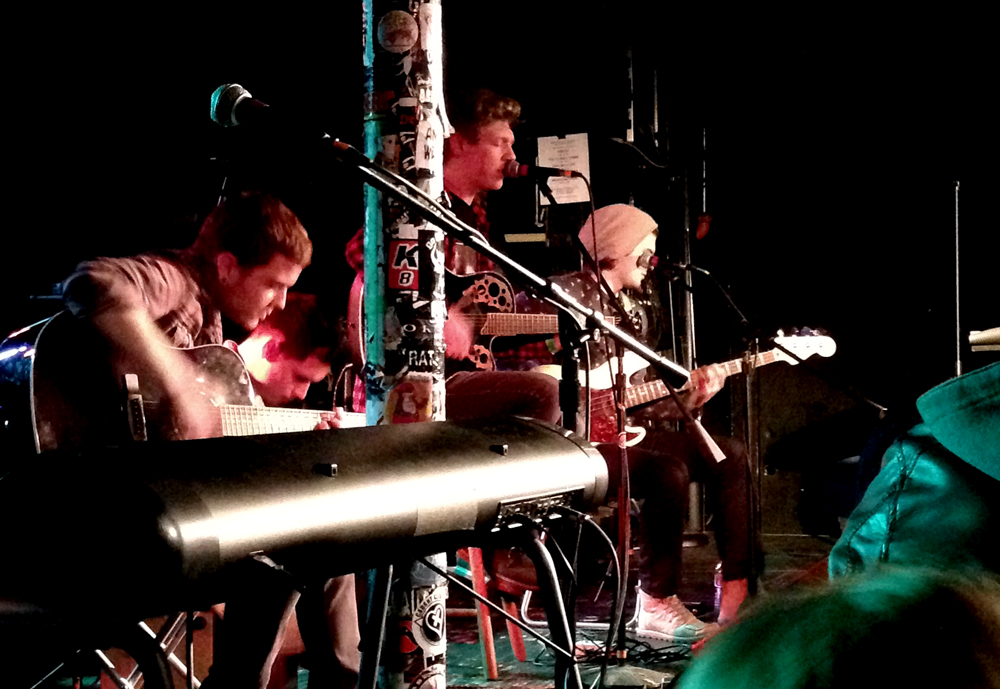 Emery guitarist Matt Carter and co-frontman Toby Morrell then introduced themselves as tour emcees, taking the stage after Shoreline Drive to welcome the band's loyal fans and set the tone for an intimate night.
Peace Mercutio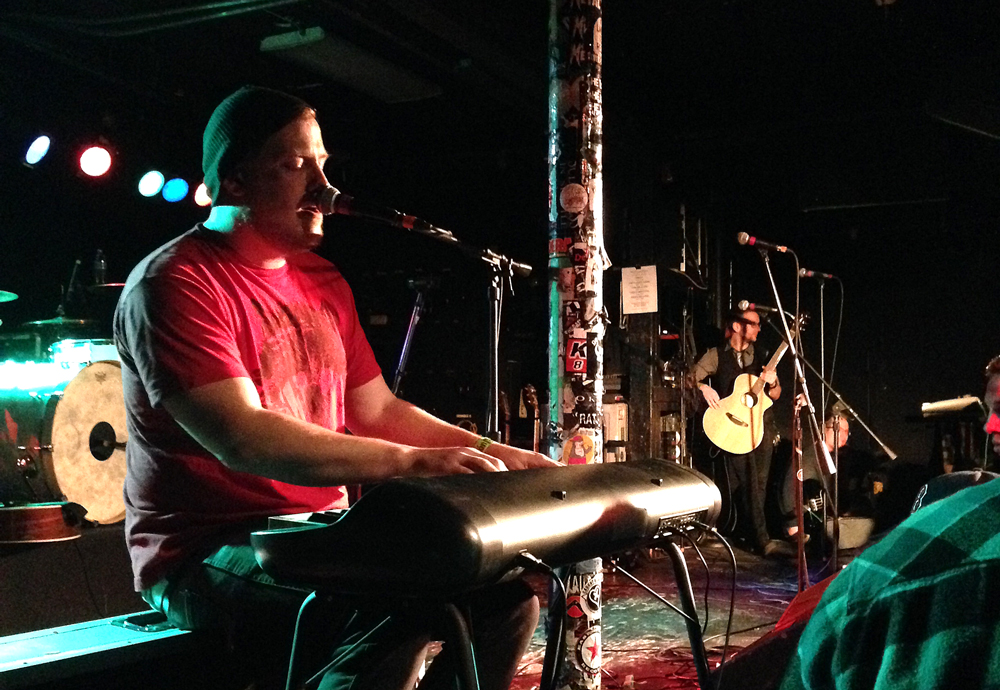 Up next was Peace Mercutio (@peacemercutio), a Seattle band whose well-rehearsed pop punk tendencies glowed through tripled acoustics and electric bass. The quartet played a handful of fun songs showcasing perfect four-part harmonies, with singer/guitarists Dan Buckley and Andy Lundman swapping vocal leads while drummer-turned-guitarist Taylor Jurgens and bassist Nick Emacio added high vocals. The band opened with energetic rocker (And That's How) Good Charlotte (Got Famous), and followed through with songs like Chicago and a beautiful piano rendition of Street Lights by Lundman. Peace Mercutio was a ton of fun to watch, and I'm sure their electric set would be even more intense. Check out (And That's How) Good Charlotte (Got Famous) below!
Matt & Toby
Matt and Toby came up again after Peace Mercutio to take a few questions, banter a bit, and knock out a beautiful Matt & Toby (@MattandTobyband) song off their side project album of the same title, Good Boys.
This Wild Life
This Wild Life (@thiswildlife) followed, a Long Beach duo whose tattoos and epic beardiness could blend in among any number of rock bands. Surprisingly (to me, at least), the band is always an acoustic duo led by singer/guitarist Kevin Jordan and supported by guitarist/harmony vocalist Anthony (great name) Del Grosso. This Wild Life's songs have a special irresistibility, and Jordan's silky croon paved the way for a wonderfully enjoyable set full of memorable songs like Puppy Love.
Matt and Toby once again returned to field more questions, and brought returning co-frontman Devin Shelton out to play marvelous, stripped-down versions of In Shallow Seas We Sail and Listening To Freddie Mercury, both hearty singalongs.
The Classic Crime
Fellow Tooth & Nail veteran Matt MacDonald (@mattmacdonaldis) was up next, billed as The Classic Crime for the TCC setlist he performed on his own. Despite a few technical difficulties starting out, MacDonald's years as the respected band's frontman were evident in a confident set of acoustic numbers. Featured songs included The Coldest Heart, The Happy Nihilist, and to close, a preview of the upcoming acoustic album in the form of The Fight. MacDonald displayed a remarkable mastery of his looper pedal, recording and overdubbing parts to add to the fullness and emotion of each song. Several of his band members were present as well, including The Classic Crime guitarist Robbie Negrin and wife and Vocal Few (@VocalFew) partner in crime Kristie MacDonald. Every song was met with a full house singing along, a heartwarming experience for a long-running Seattle artist to be received so warmly.
Emery
By the time Emery was getting ready for their set, El Corazon was near or at capacity, and the pit was noticeably less spacious. All eyes were turned to the stage as the boys in Peace Mercutio and This Wild Life set up for the headlining act.
Something special happens on anniversary tours. As soon as Emery (@OfficialEmery) took the stage, the crowd almost seemed to quiet in anticipation of the thunderous first line of Walls. It can't be overstated: Emery delivered well above and beyond the original recordings. The five now-veteran musicians commanded every inch of the stage, climbing monitor wedges and engaging the audience at every angle. Frontmen Toby Morrell and Devin Shelton swapped bass and lead vocal duties throughout the night, with Shelton notably not returning to his original parts on rhythm electric. This gave both vocalists added flexibility and accessibility to pump the crowd and belt the band's trademark duets.
Lead guitarist Matt "Zod" Carter dominated stage right, tearing through the memorable lead lines in the ten year album on his well-worn Gibson SG. Synth/keys player and original screamer Josh Head leveled stage left, stagediving and howling his parts all night, a savage force that drove the crowd wild. Drummer Dave Powell wasn't any less energetic, holding the rhythm section tight with towering drum fills and confident recreations of the recording. There's no mistaking it: Emery is still at the top of their game.
The band smashed through the first half of 'The Weak's End'; with such a frontloaded album it was easy to get the crowd going. After Walls, the band pushed into The Ponytail Parades and Disguising Mistakes With Goodbyes, both beautifully ended on the band's massive duets. Since 'The Weak's End' was Emery's first album, it was the only one in the band's career that was hashed and rehashed before hitting studio or stage, and it shows. These musicians are not only exceptionally talented and passionate about their body of work, they know it by heart and play it as such. I was pleasantly surprised to see all four vocalists contributing four distinct screams: Carter and Shelton throwing up piercing high screams and Morrell and Head adding raw bellows to the melee.
It was awesome hearing songs that would probably otherwise not have stage time, like By All Accounts (Today Was A Disaster) or Under Serious Attack. The band closed on an emphatic rendition of The Secret, with Matt Carter wailing through the dual solos that ended the groundbreaking decade record.
After leaving the stage, the quintet returned for a one-song encore, 2005's Studying Politics. I couldn't possibly have asked for a better show to kick off 2014. I'm amazed that in light of their vicious stage presence and fearless intensity, half of the guys in Emery are dads. Ten years looks good on Emery, and given the effect 'The Weak's End' has had on myself and the thousands of fans flocking to this anniversary tour, I would say it looks pretty good on us too.