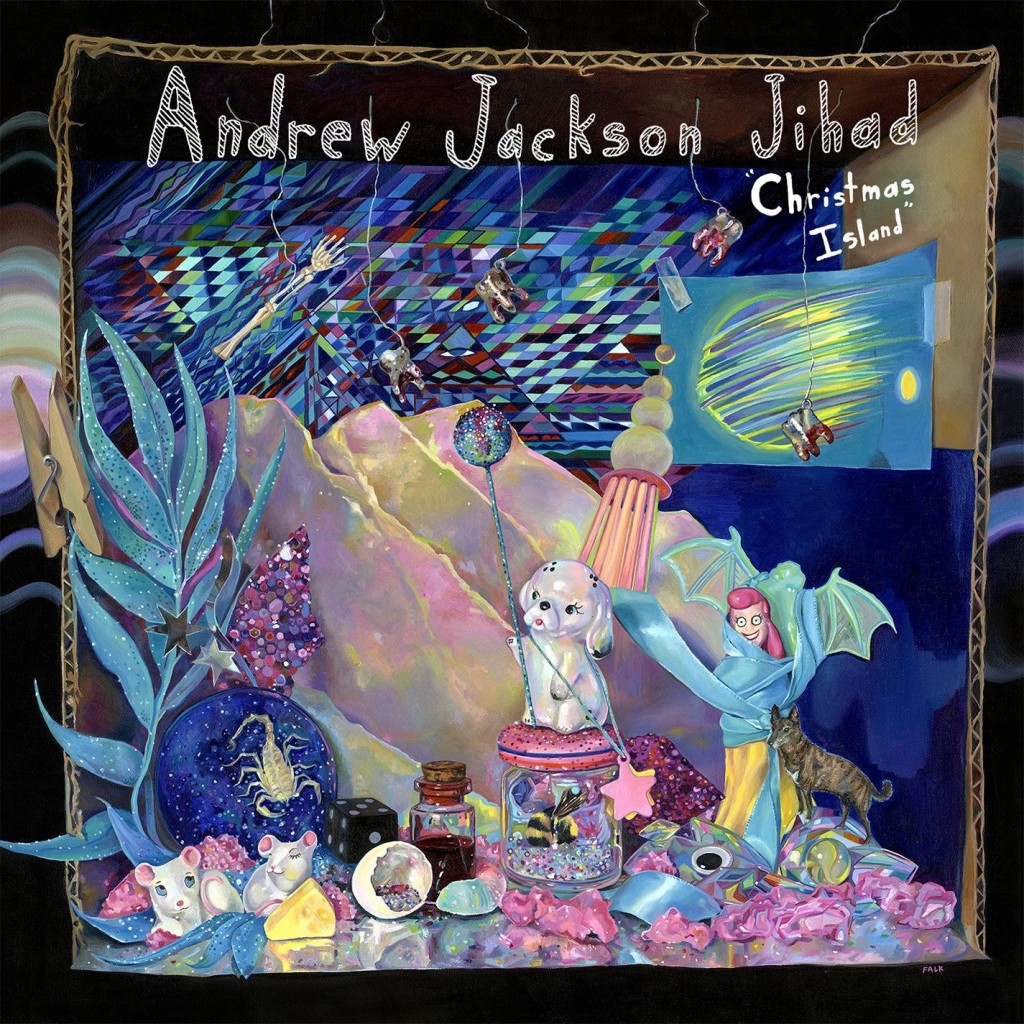 You don't just name your band Andrew Jackson Jihad and then decide to play boring music. The Phoenix, AZ veterans are celebrating ten years of bandship with a rocking folk-punk fifth album, SideOneDummy debut Christmas Island.
Wacky, satirical, and delightfully demented, the gang has a dozen new songs whose long arms take root in folk-rock but tickle genres of all sorts. There's apparently not an Andrew Jackson in the band, but frontman Sean Bonnette leads a great crew in bassist Ben Gallaty, keys/guitarist Preston Bryant, drummer Deacon Batchelor, and a medley of guests and instruments.
"Temple Grandin" opens Christmas Island, the jammy intro that feels Front Bottom-y (haha) due to the strum-and-bass groove and Bonnette's plaintive wailings. The album is sunny coming in, as second track "Children Of God" keeps the fun right up. It's lighthearted and comfortable until listeners pick up on the lazy skating through lyrics involving blood collectors, cannibals, and flowery rooms of corpses in "Do, Re, And Me."
The band's penchant for the comical dark seems to flow all too easily, as the acoustic-driven sound digs into the politely colorful fourth track "Coffin Dance." Bonnette roves into acoustic Brand New territory, turning down to a mournful quiet contrast against the confident howlings of the earlier tracks. There's a Ben Folds nonchalance that could place any number of PG-13 moments in mid-album ballads like "Getting Naked, Playing With Guns" or "I Wanna Rock Out In My Dreams."
Early single "Kokopelli Face Tattoo" and "Best Friend" rebuild mid-album energy, both lo-fi Summer hits that are as easy to listen to as they are hard to swallow lyrically. Second single "Linda Ronstadt" sums up the overall mood of the album: fun drivers with an unabashed examination of humanity, society, and self.
Closer "Angel Of Death" is a brutally honest trio of minutes. Smooth rock organs and a plethora of diverse sonic flavors frame mouthfuls of observative lyrics, a tasteful look at life as Andrew Jackson Jihad. Christmas Island is mature, richly intelligent, and twisted in a funny, likeable way. It's not easy listening, but you'll laugh to yourself… and then think hard about life.