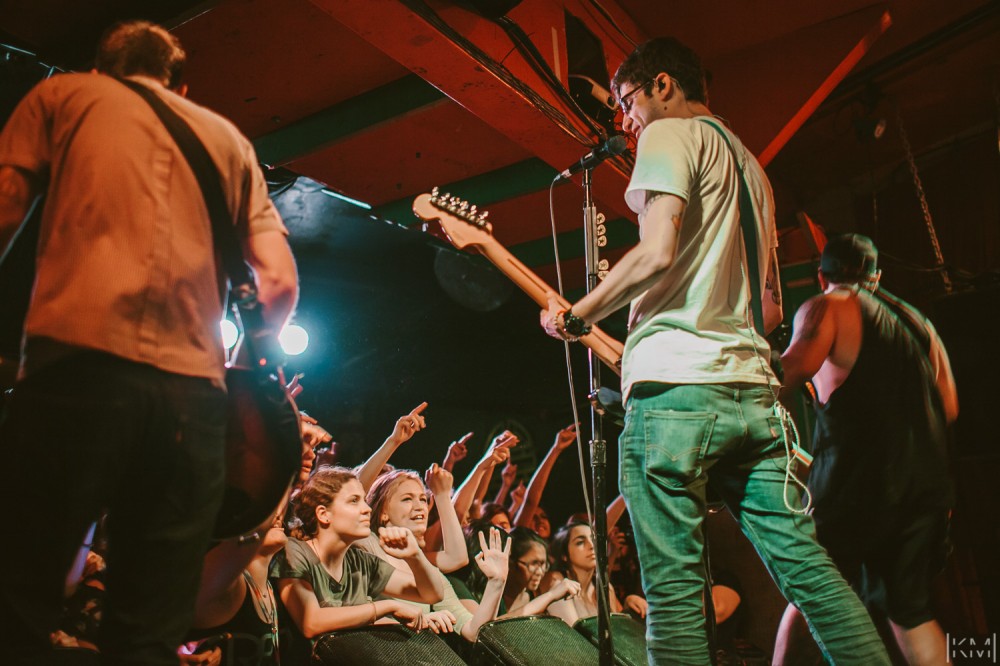 (For the full article featuring pictures from RCA photographer and founder Kelly Mason, head to Rain City Ambience!)
On Friday, May 30th, Man Overboard brought their headlining Heart Attack Tour up to Seattle's Chop Suey. With tour support in the form of Knuckle Puck, Forever Came Calling, and Transit, and PNW openers Beneath The Spin Light and Defeat The Low, it was a packed lineup that had the venerable old venue bulging at the seams. The line for entrance extended halfway down the block, as fans of all six bands waited expectantly for a massive night of rockin' pop punk.
Camano Island band Beneath The Spin Light (@beneathtsl) opened up with a handful of energetic hits, including brand new song 'Down, Set, Let Go'. The band just celebrated their one-year anniversary, and will turn up the heat this Summer opening for Blood On The Dance Floor at Studio Seven July 17th. Check out some of BTSL's new songs on the Battle Of The Bands website!
Defeat The Low followed, the new group featuring Rise Records founder Craig Ericson. The Rose City rock band flipped through a handful of interesting cuts showcasing vocalist Chris Huaraque's high singing into seamless piercing screams. With a new album due out later this year on Rise, Defeat The Low is definitely a band to watch. Scope the lyric video for single 'Turn To Hate' below!
https://www.youtube.com/watch?v=SQnWpjPbWrA&feature=youtu.be
Illinois upstart band Knuckle Puck (@knucklepuckIL) was up next, a young quintet featuring vocalist Joe Taylor, guitarists Kevin Maida and Nick Casasanto, bassist Ryan Rumchaks, and drummer John Siorek. With only an EP, The Weight That You Buried, and a recent 7″ split with Neck Deep out, this young band has a brief but promising back catalog. The crowd's response was as immediate as it was dramatic: ferocious crowd surfing, stage diving, and all sorts of singing and shouting along to 'Everything Must Go', 'Gold Rush' (below), and older favorites 'Stuck' and 'No Good'. Look out for future signing and release news, because this band is on the rise.
Californian quartet Forever Came Calling (@heyitsFCC) was no less impressive, boasting six years as a band and an incredibly faithful following to show for their hard work. Having recently made an announcement for sophomore album What Matters Most, due September 9th on Pure Noise, the band has been playing the heck out of 2012's stellar Contender. Frontman Joe Candelaria pushed the roiling crowd into a bona fide circle pit, overcoming guitar strap troubles with ease while bassist John Swaba, drummer Bryce Esquivel, and guitarist Isaac Taylor filled out the rest of the energetic lineup. Forever Came Calling blasted out songs like 'Contender' and 'Front Porch Sunrise', as well as new single 'Indebted'. Watch the lyric video for 'Indebted' below. You won't be disappointed.
Boston pop rock heavyweight Transit (@Transitma) was up next, the East coast veterans pushing last year's excellent record Young New England. With four full-lengths and four EPs out, Transit has been in the game for a good long while, and has the stage presence and performing strength to prove it. Vocalist Joe Boynton (honestly, whose name isn't Joe?) led the band in a handful of hits, including 'Nothing Lasts Forever', 'Long Lost Friends', and 'Listen & Forgive', as well as new song 'Pins And Needles'. The quintet was a pleasure to watch, as singing guitarists Tim Landers and Torre Cioffi, singing bassist PJ Jefferson, and drummer Daniel Frazier hammered out a sturdy set of hits. Transit has always had a curious way with writing emotional, accessible music, including standout set closer 'Skipping Stone', from 2011 record Listen & Forgive.
New Jersey headliner Man Overboard (@ManOverboardNJ) kicked off a massive set of songs by opening with 'White Lies', the lead single off of 2013 album and tour namesake Heart Attack. Co-frontmen Zac Eisenstein and birthday boy bassist Nik Bruzzese rang off their trademark call-and-response singing, blitzing through songs off every album. The band allowed fans to vote on the setlist for this tour, and picks like 'Dead End Dreams', 'Atlas', 'S.A.D'., and 'Boy Without Batteries' had the crowd going wild. Guitarist Justin Collier, southpaw strummer Wayne Wildrick, and drummer Joe Talarico (another Joe) maintained the energy on the stage while Bruzzese and Eisenstein kept busy belting and pumping up the audience.
The set was paused several times to wish Bruzzese happy birthday, including a hearty birthday song from the crowd, but each time the band picked up the pace again without any trouble. The night built up to shout-along song 'Love Your Friends Die Laughing' and hit single 'Where I Left You' before a massive encore performance of 'Rare'.
As always, Man Overboard delivered a towering performance of pop punk mastery. Aside from being a genre staple since forming in 2008, Man Overboard continues to display an ease onstage only natural to those who love playing what they've written together. With a track record of bringing the brightest national talents on tour, this New Jersey magnet is always worth the money.