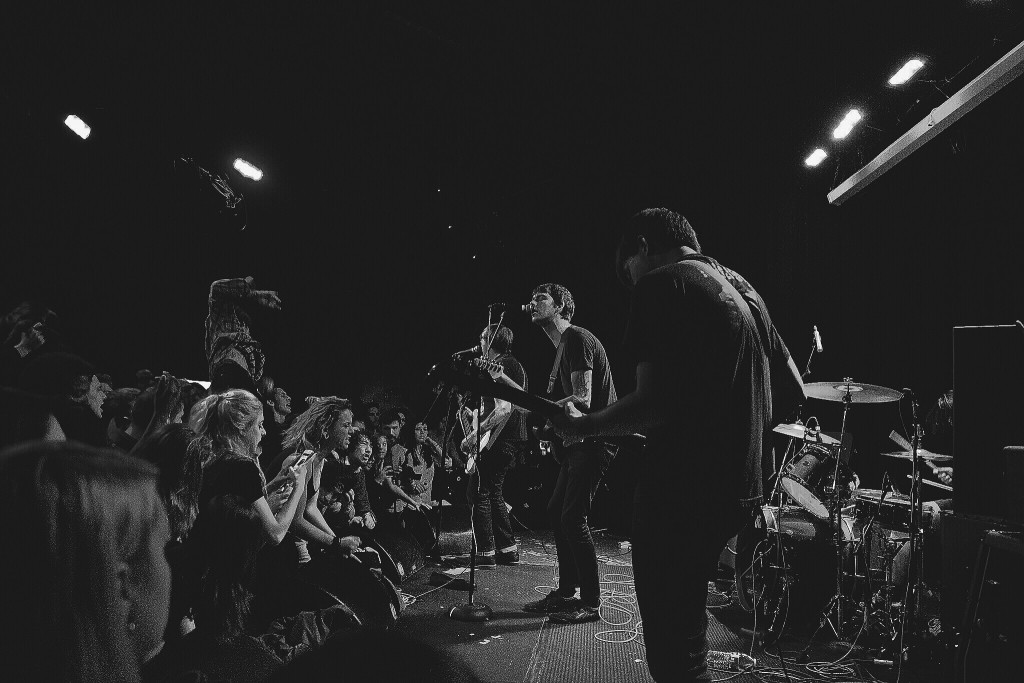 Early last week, Andrew and I headed down to The Vera Project for a fun last show of 2014: Our First Brains, Toys That Kill, and headliner Joyce Manor in the middle of their West coast tour.
Portland's Our First Brains opened up, a warm punk quartet whose fuzzy riffings were a perfect fit for this punk-centric tour. Playing through songs like "Funeral For A Former Self" off of their 2014 Summer Tour EP, the band's tunes are smartly assembled listens. Definitely keep an eye out for this talented band, and check out their EP on Bandcamp. You won't be disappointed.
Long-running San Pedro band Toys That Kill followed up, celebrating 15 years as a band by releasing an upcoming split with Joyce Manor. Led by singing guitarists Todd Congelliere and Sean Cole, this band's roaring punk made for an energetic and fun set. Bassist Chachi Ferrara and drummer Denis Fleps kept the rhythm section tight with simple, in-your-face beats. As most of this band's songs are on the short side of two or three minutes, the setlist probably featured a mid- to high- teen number of fun, riffy songs. Easily one of the most fun punk sets I've seen.
Joyce Manor closed out the night, the Torrance wunderkinds out in support of this year's fantastic Epitaph release Never Hungover Again. This talented young band blew out the venue with a massive setlist spanning all of their (excellent) releases. Older favorites like "Leather Jacket", "Beach Community", and "Violent Inside" were brought out with newer songs like "Christmas Card", "Schley", and hilariously simple earworm "Heart Tattoo".
Frontman Barry Johnson and backing vocalist Matt Ebert powered through the demanding setlist with admirable performances, supported by lead guitarist Chase Knobbe and drummer Kurt Walcher. The crowd responded in kind, moshing wildly, singing and shouting along, and stage diving very gently given recent events. Joyce anthem "Constant Headache" and fan-requested "Five Beer Plan" were two of the band's final songs, ending a massive night of punk rock on the highest of high notes.